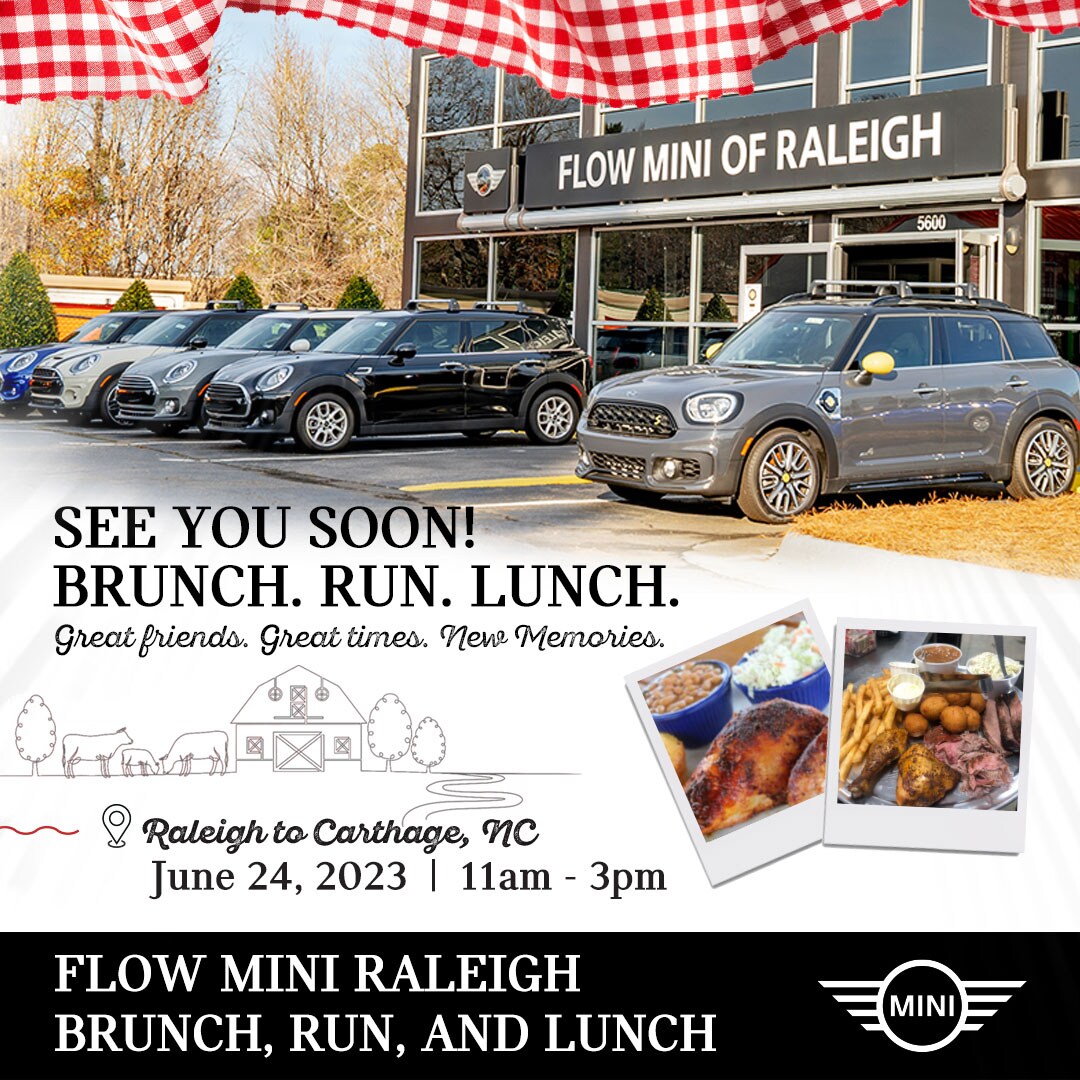 Brunch, Run, Lunch
June 24, 11:00 am
Join us for the ultimate Brunch, Run, and Lunch adventure! Flow MINI of Raleigh presents an exciting event on June 24. Start your day with brunch at at our store, then embark on a scenic convoy to Pik-N-Pig in Carthage for lunch, on us! Don't miss out on the MINI fun!  Sign up now, space is limited! 
Grand Re-Opening/
Customer Appreciation Day
Date and Time TBA
Look out for updates on our Grand Reopening!  We've had a remodel and can't wait to show off our new space!  
MotorTober Drive-In
Movie Night
October 21, 2023
We had so much fun last year, we're doing it again!  Join us for an evening of fun, games, and a movie on the big screen!  Enjoy the movie from the comfort of your MINI.   Mark your calendar now, time will be announced later in the year.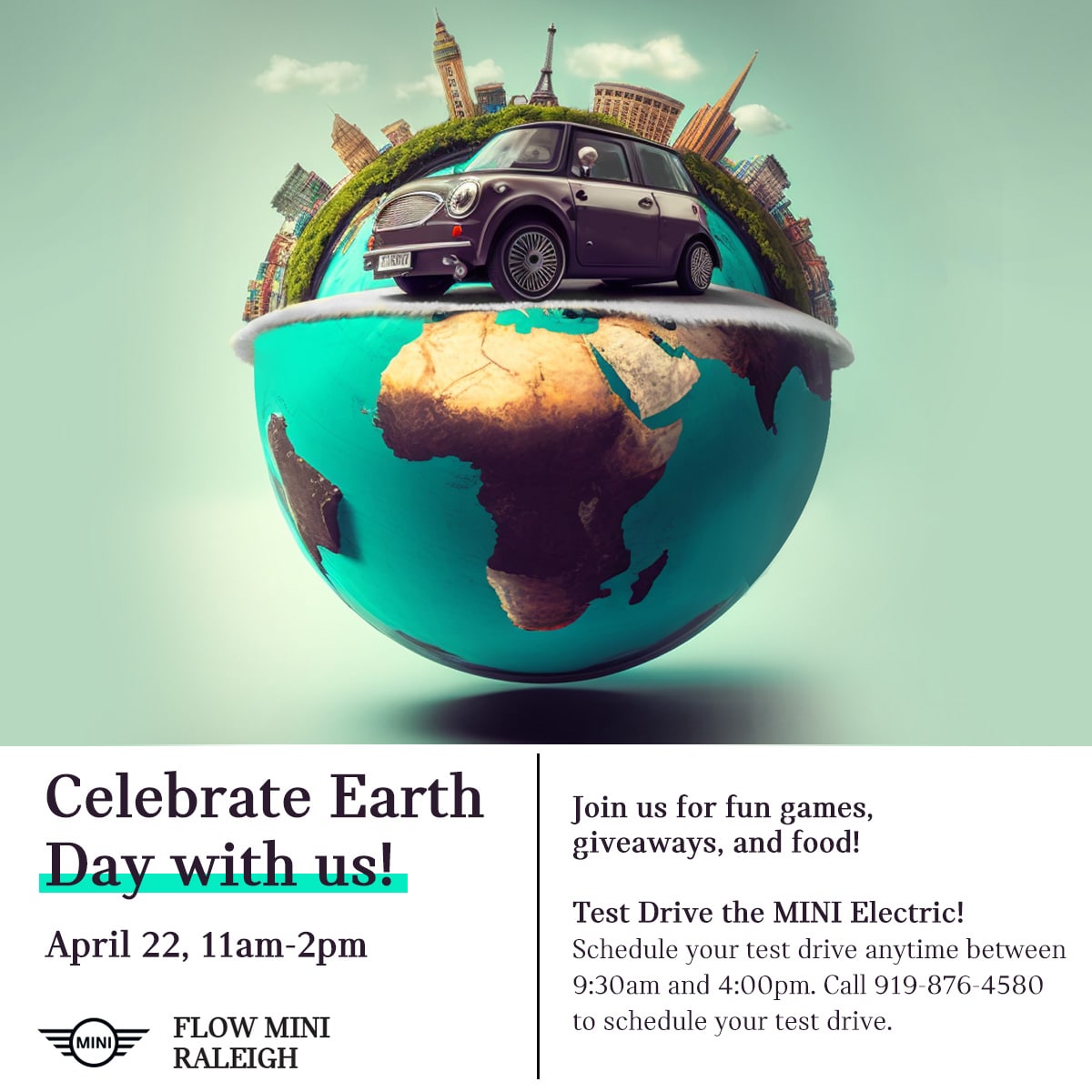 Earth Day with Flow MINI
April 22, 2023, 11 am-2 pm
On April 22, 2023 Flow MINI of Raleigh celebrated our first Earth Day event by featuring test drives of the all-electric MINI Cooper SE.  We shared wildflower seeds and Earth stress balls balls with all our guests, and enjoyed a food truck for lunch!  Three happy customers purchased their new MINI during this event!
Motor-Tobor
Drive-In Movie Night at
Flow MINI of Raleigh
Spider-Man: No Way Home
October 26, 2022, 7:00 pm
Thanks to everyone that joined us for Motor-Tober Drive-In Movie Night at Flow MINI of Raleigh!  We enjoyed Spider-Man: No Way Home with the MINI Family.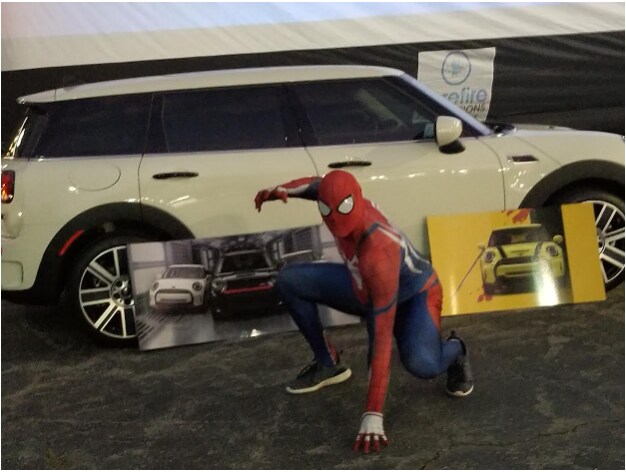 MINI Takes the States
July 9th- July 17th 2022
Mark Your Calendars!
The MINI community will reunite for the 8th edition to zig and zag parts of the country MTTS has barely touched in our 16-year history.
The route will be similar to the postponed 2020 route and as you can imagine we are busy finalizing all the details… we'll be back in touch soon. But in the meantime, mark your calendars and get ready to hit the road with MINI!
We will see you there! 
Toy Drive with MINI and
The Salvation Army
The toy run may be over, but the season of giving has just begun.
Flow MINI of Raleigh is still accepting toys in partnership with The Salvation Army. So bring any new un-wrapped toy for any age group to Flow MINI of Raleigh!
Thank you for all your donations!
MINI Raleigh Milkshake Run
October 23, 2021
We're meeting up at Flow MINI of Raleigh and driving to the nearest Char-Grill with a police escort during the 2021 MINI Milkshake Run!
Fit in as many friends as you can in your MINI, and everyone in your car gets a free milkshake! Let's show up in full force for our first Flow MINI Raleigh Milkshake Run! Sponsored by Flow MINI of Raleigh. Contact Henry Noel (hnoel@flowauto.com) for complete details!
Things to Remember:
Masks are REQUIRED Indoors and are OPTIONAL Outdoors
We recommend that you Bring Your Own Chair
**PLEASE ARRIVE BY 10AM. Leaving the Dealership at 10:30 AM.
SOLA Hot MINI 5K
September 18, 2021
The Sola community will join together in our fight to #EndALS. Amyotrophic Lateral Sclerosis (ALS or also know as Lou Gehrig's disease) is a progressive degenerative disease that destroys the neurons that control voluntary muscles. At this point in time, there is no cure for ALS. But "ALS is not an incurable disease, it's a severely underfunded one" and this is where we need your help. Please consider joining us in the fight to #EndALS. Here are ways you can participate: 
Register to run/walk the Hot Mini 5K
Donate financially to #EndALS 
Sign up to volunteer on race day 
Become a race sponsor 
Buy an "I Believe In Jeanne" shirt 
#TogetherWeEndALS
ALL money raised will go directly to organizations that are actively trying to find a cure for ALS. We are partnering with the Team Drea Foundation, ALSTDI, Duke ALS, and Project ALS.
MINI TOGETHER
JULY 24, 2021
A one-day self-curated road trip and virtual celebration on Saturday, July 24, 2021
MINI Owners will be on the road together while being socially distanced 
Participants explore their own geographic area starting at Flow MINI Of Raleigh
HAPPY FATHER'S DAY!
GRILL AND CHILL GIVEAWAY
Post a favorite photo of your Dad in a MINI on our Facebook page to enter our Exclusive Father's Day Giveaway Contest. 
One lucky winner will win a Blackstone Grill valued at $300!
Congratulations to Sean on winning your new grill!
HAPPY MOTHER'S DAY!
BE THE FUNNEST MOM IN YOUR MINI.
Post a favorite photo of your Mom in a MINI on our Facebook page to enter our Exclusive Mother's Day Giveaway Contest!
One lucky winner will win a Pinehurst Resort Spa Package valued at $300!
Congratulations to 
Willow on winning the MINI Raleigh spa package!